Emma Langford with Full Band
July 6 @ 8:30 pm

-

12:00 am

€15.00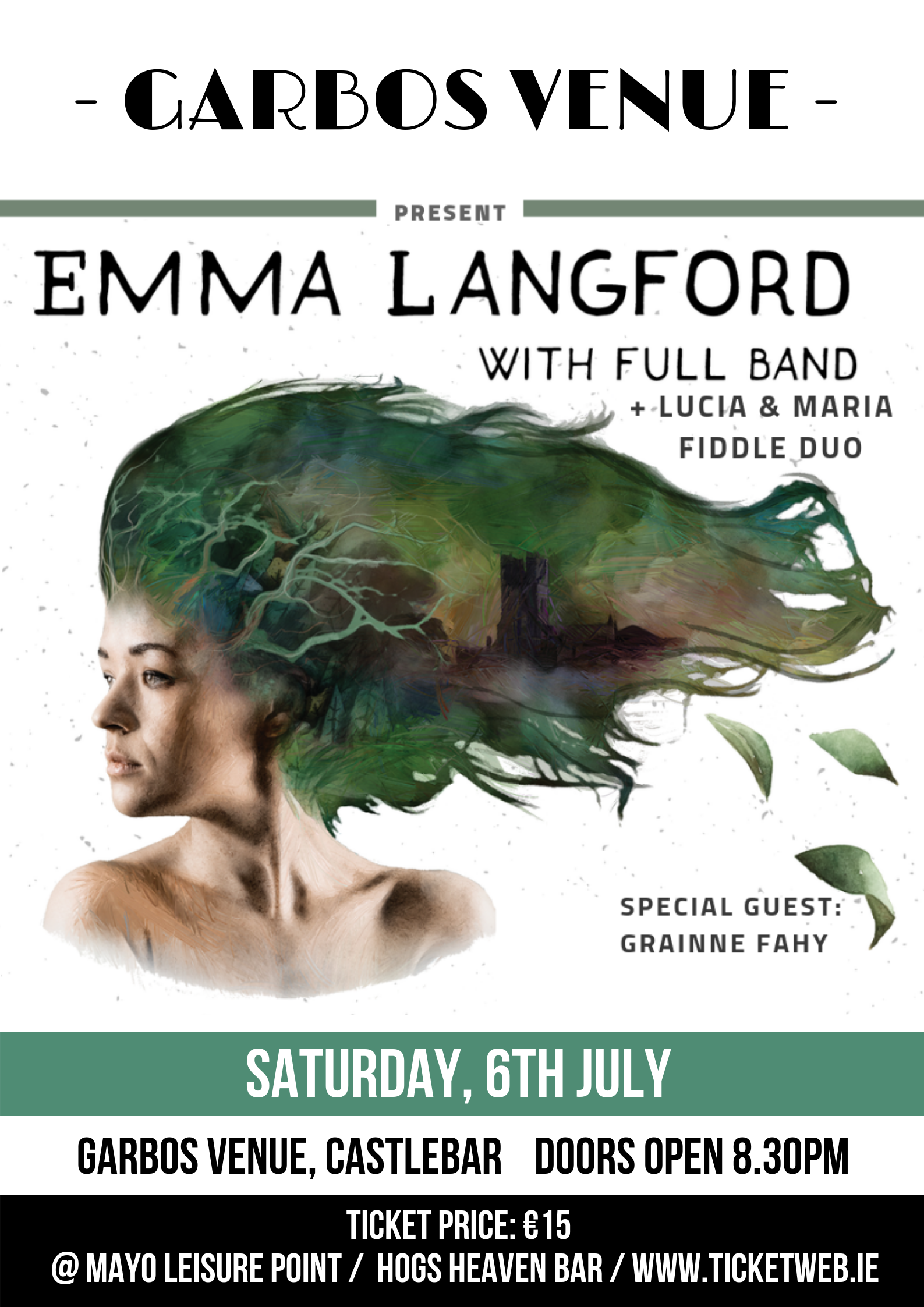 € 15.00 / Age 21 And Up
Tickets:
https://www.ticketweb.ie/event/emma-langford-band-garbos-live-tickets/9538885?REFERRAL_ID=twfb
Emma Langford introduced herself to the Irish music scene in 2016 with a simple home-made video posted to social media.
Her song Tug O' War was a soulful account of anxiety and self-doubt, and struck a chord (eh?) with hundreds of online fans, going on to be the closing track on her critically acclaimed first album.
Two years on, in 2018 she won the RTÉ Radio 1 Folk Award for Best Emerging Artist – effectively making her gestation period longer than that of an elephant.
Impressive.
This summer, after a number of knock-out supports and double-headers, she plays her first full-band Mayo headliner at Garbos in Castlebar.
The Irish Times described Emma Langford's debut album "Quiet Giant" as one that 'weaves a spell as you listen to it… An enduring piece of work'; the spell-binding Quiet Giant was set loose to wreak very gentle havoc on the public in late 2017.
Emma will be joined on stage by a veritable orchestra from across Ireland, Europe and the US, and they'll all help in launching her forthcoming summer single, Goodbye Hawaii.
Arkansas artist Alec (Doc) Brown will be fresh off a plane from Japan where he's touring his own album of bluegrass and traditional Irish music on cello.
Peter Hanagan is one of the country's finest jazz musicians and a master of "the lowest form of music" double bass – in his own words;
Virginia native Ray Yrure who delighted German audiences this summer as part of The Emma Langford Trio will be on drums, keeping everyone in check.
Special guests include Lucia and Maria, and Mayo's own Gráinne Fahy.